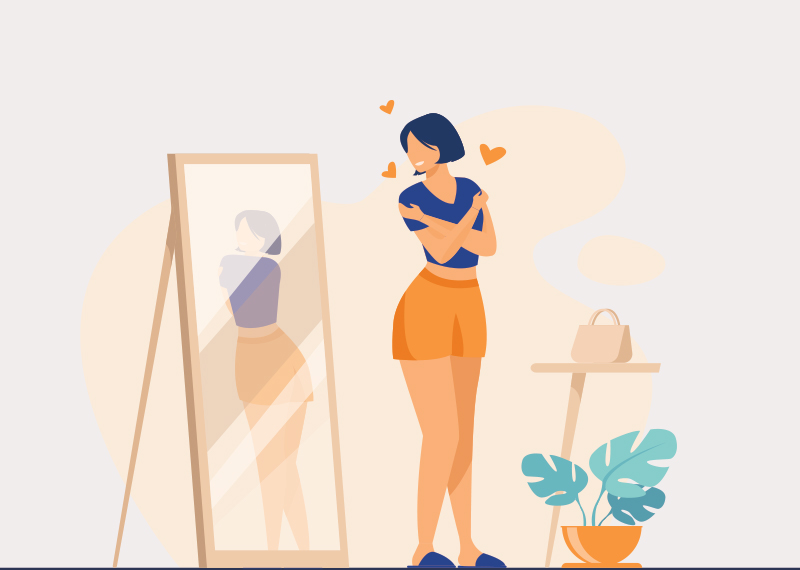 As what was defined as #bodypositivity narrowed more and more synonymous with a narrative linked to bodies of white women with curves , a new concept began to make its way among those who, with broad shoulders, he faces the relationship with his own body: #body neutrality ; a way of accepting your own body and that of others eliminating the judgment , in front of the mirror and on social media.
Let's start with a fact. In 1967, U.S. author Lew Louderback published an essay titled More people should be FAT in the Saturday Evening Post . The article aimed to take over the word fat in an age when the model was already thinness and, causing quite a stir, gave way to a group of activists who opened a breach towards the positive acceptance of one's body, the #bodypositivity, in fact. That term actually appeared for the first time several years later, in 1996, when psychotherapist Elizabeth Scott set up thebodypositive.org with author Connie Sobczak, who had treated for an eating disorder. . It is only around 2015 that the term #bodyneutrality started circulating online : in 2016 the American specialist in eating disorders Anne Poirier started holding seminars on body neutrality, helping participants think about appearance of your body in different moments of life: our body simply evolves, changes, adapts ... lives every phase of our life.
It was the I Weigh community of actress Jameela Jamil who helped bring body neutrality into the public eye . Everything started from a post, and then turned into a social flow where people could publish images and list the values ​​that went beyond weight or appearance . Creativity, sensitivity, the ability to be multitasking, or to be generous, a good friend. It draws on feminism, it tells of elderly, queer, transgender, homosexual women and people with disabilities who are able to identify with their body with neutral judgment : people are not born hating their bodies - but at some point the comparison with others leads us to judge ourselves.
By welcoming the body, one becomes aware of a glaring truth: it is the world that must adapt to our form, not the other way around. Every soul, every energy, is collected in a form, and it is that form that gives consistency to being: how can we judge it inadequate?
Here, then, practices such as the so-called "intuitive eating" , which works as an antidote to restrictive regimes and alienates the culture of weight loss, placing listening to the signals at the center of the body . Adopting "intuitive consumption" and a neutral approach to our body means first of all rejecting the idea that to be healthy you need to count calories and do forced exercises; since with intuitive eating there are no restrictions on what you can eat, there is no shame or guilt .
Exercise is also registering, not without effort, a change in reputation: increases awareness of its benefits for mental health , as well as physical. Different, new, must be the reasons to give people to move . Recent research on physical activity and good humor from the University of Michigan, published in the Journal of Happiness Studies , found that people who exercise even less than 10 minutes a day they are happier than those who are not active at all: here is one!
This is also the case for fashion: it is the dress that dresses the body, not the other way around.
The body is worthy of centralizing attention; it should not be mortified, forced, crammed, contained: the body must be freed.
It is the great added value of fitwear, of the fitwear style of #Viva : welcoming and supporting a living body, which has chosen its shape, which changes that shape every time it has need ... that inhabits the world.